Cut through the Red-Tape! Each Red- X is a Bone or Joint that I have broken or injured in my life and Career as an extreme athlete. I have worked hard doing this yoga to heal my body. I have 100% range of motion and essentially no pain because I practice Bikram Yoga. This yoga allows the body to heal. What pain do you live with that you could live without?
SEPARATE LEG FOREHEAD TO KNEE
TWO AMAZING BIKRAM YOGA TEACHERS: SHAWNA and KIMBERLY.
YES! The studio is cleaned nightly by Tiara wearing super heros like Jessi! Wonder Woman!
Videos
EMME CLEAVES- A MASTERFUL UNDERSTANDING OF THE BENEFITS OF HAVING A YOGA PRACTICE
105 Degrees and 40% Humidity is the ideal temperature for the Bikram Series.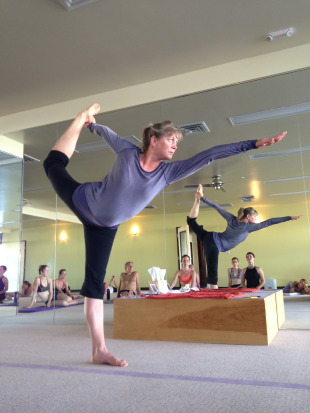 Standing Bow Pose in Posture Clinic