yoga teacher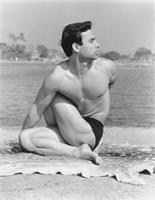 yoga teacher instructs the following:
Bikram Yoga is the 26 postures Sequence selected and developed by Bikram Choudhury from Hatha Yoga.

Classes are 90 minutes to get the optimum benefit.

It has been proven and experienced by millions that these 26 postures systematically work every part of the body, to give all the internal organs, all the veins, all the ligaments, and all the muscles everything they need to maintain optimum health and maximum function.

Each component takes care of something different in the body, and yet they all work together synergistically, contributing to the success of every other one, and extending its benefits.

Bikram Yoga is practiced under the guidance of a certified Bikram Yoga Teacher at this affiliated Bikram Yoga studio.

This studio is built in such a way that you always get the proper heating which helps you to do your postures optimally.

Come on in and change your life, 90 minutes at a time.




Hot-Pilates

Hot Pilates is a chal­leng­ing full-body work­out using Pilates prin­ci­ples. There is no impact, so it is safe prac­tice for all fit­ness lev­els of students.

And it makes you feel goooooood.

How would you like to strengthen your core mus­cles so that you can eas­ily lift up your up kids or carry your gro­ceries? How about keep­ing your body feel­ing young, healthy, and strong? Would you like that?

With Hot Pilates, you will tap into that core strength. After one week you will notice the dif­fer­ence. The way you feel, the way you look, and all those compliments…

And that is just scrap­ing the surface…The ques­tion is… Are you ready for the change? Are you ready to get fit? Are you ready to feel inspired? Are you ready to BURN the past, TRANSFORM your life, and LOVE your future? Can you envi­sion your new body… now…

What is Hot Pilates?

Hot Pilates is a train­ing sys­tem which com­bines Pilates prin­ci­ples with high inten­sity inter­val train­ing and is per­formed in a room heated to 95 degrees Fahren­heit and 40% humidity.

Why would you do Hot Pilates?

Hot Pilates cre­ates long lean mus­cle mass, burns fat, and increases fit­ness lev­els. It cre­ates a stronger core, improves cir­cu­la­tion, and increases flex­i­bil­ity. It is per­formed on a yoga mat mak­ing it zero impact, pro­tect­ing your joints and mus­cles from the pound­ing of other exer­cises like run­ning and jumping.

How does it work?

Hot Pilates com­bines car­dio and mus­cle ton­ing in a heated room. The high inten­sity inter­val train­ing keeps your heart rate up, help­ing you burn fat. The Pilates prin­ci­ples sculpt you body, cre­at­ing long lean mus­cle mass. The heat loosens up the mus­cles quickly, and the humid­ity makes you sweat — ele­vat­ing your heart rate, boost­ing metab­o­lism, and pro­mot­ing detoxification.

MEET THE INSTRUCTORS!

BECCA LAVIN and MICA FISH!