Mica Fish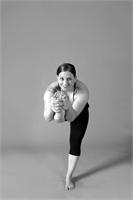 When you come in to take Mica's class you will experience a compassionate and dedicated class. You are welcome here to come in a transform your life. I found this Yoga after breaking both of my ankles. Yes, at one time...as a professional athlete, a USASA freestyle snowboard champion and 2000 x-games participant, I learned both the potential of the body and the need for maintenance and care.
I created this yoga space so you will be encouraged to learn and reach new limits. I give individual corrections to push your limits and welcome you to go at your own pace, just as I do when I practice.
I have worked as a Wilderness Guide, a Hypnotist, a Counselor, and a personal Coach. This studio is my dream come true. So come on in and enjoy it with me!
Mica Fish instructs the following:
Bikram Yoga is the 26 postures Sequence selected and developed by Bikram Choudhury from Hatha Yoga. Classes are 90 minutes to get the optimum benefit.

It has been proven and experienced by millions that these 26 postures systematically work every part of the body, to give all the internal organs, all the veins, all the ligaments, and all the muscles everything they need to maintain optimum health and maximum function. Each component takes care of something different in the body, and yet they all work together synergistically, contributing to the success of every other one, and extending its benefits.

Bikram Yoga is practiced under the guidance of a certified Bikram Yoga Teacher at this affiliated Bikram Yoga studio.

This studio is built in such a way that you always get the proper heating which helps you to do your postures optimally. Bikram calls these studios "Torture Chambers".

Come on in and change your life, 90 minutes at a time.




THIS CLASS IS FOR EVERYONE IN THE FAMILY. THIS IS YOUR CHANCE TO INTRODUCE FAMILY AND FRIENDS TO THE STUDIO IN A NON-HEATED ENVIRONMENT. CHILDREN ARE WELCOME. 60 MINUTES. NOT HEATED. BRING A MAT, TOWEL, AND WATER IF YOU LIKE. WEAR COMFORTABLE CLOTHING. WE WILL PRACTICE THE TRADITIONAL BIKRAM YOGA POSTURES. IF YOU HAVE A MEMBERSHIP YOU ARE WELCOME TO USE IT FOR THIS CLASS. DROP-IN $17. CHILDREN UNDER 18 $8.50. 3PM-4PM.