Yin Yoga - 60 minutes
This class is taught by: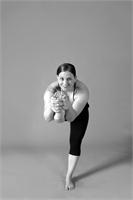 When you come in to take Mica's class you will experience a compassionate and dedicated class. You are welcome here to come in a transform your life. I found this Yoga after breaking both of my ankles. Yes, at one time...as a professional athlete, a USASA freestyle snowboard champion and 2000 x-games participant, I learned both the potential of the body and the need for maintenance and care. I created this yoga space so you will be encouraged to learn and reach new limits. I give individual corrections to push your limits and welcome you to go at your own pace, just as I do when I practice. I have worked as a Wilderness Guide, a Hypnotist, a Counselor, and a personal Coach. This studio is my dream come true. So come on in and enjoy it with me!
Deep stretching, tailored to stretching the Hips, Shoulders, and Spine.
This class is 55 minutes with a long final Savasana.
This is a functional way to activate the stretching of Ligaments, Tendons, Fascia and Bones.
Postures are held for 3-8 minutes.
The room is warm.
This is not a cardiovascular workout.
Bring your own props or borrow the studios. Everyone needs their own mat and towel.
Yin Yoga has been described as a "Glass of Wine, in a Hot Bath, while on Vacation!"