BIKRAM HOT YOGA- 90 MINUTES - Family Encouraged age 7 and up
This class is taught by:
I was born and raised in Uruguay in South America. In 1997 I moved to Rome, ltaly , graduated from College of Arts with a Fashion Windows Designs in 2003 and then spent 10 years living and working in Europe. In 2007 I moved to the United States. I worked in the hospitality business in fabulous Las Vegas and I speak Spanish, Italian, Portuguese and English. Yoga come into my life at the perfect time . I casually walked by a studio in Las Vegas, decided to walk in and asked what this Bikram Yoga is all about? I took the next class the same day and discovered something new and very challenging, I fell in love with the practice immediately, and have been going ever since. "Yoga found me" and took my mind and body to places I'd never been before. It helped me tremendously– it (~changing my life~)I felt Confident, Achievement, Discipline, Determination, Balance, Strength, Flexibility, Meditation and (PEACE ON MIND). I can not see my life without the practice , I become a Yoga warrior . With an open mind I decided after four years of practicing to go to Teacher Training and graduated in spring 2013. I hope to share this practice with Lost of Passion and Compassion with everyone who wants to better themselves and live a health lifestyle, a longer life and begin their journey to self discovery.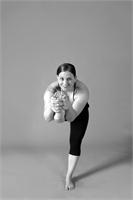 When you come in to take Mica's class you will experience a compassionate and dedicated class. You are welcome here to come in a transform your life. I found this Yoga after breaking both of my ankles. Yes, at one time...as a professional athlete, a USASA freestyle snowboard champion and 2000 x-games participant, I learned both the potential of the body and the need for maintenance and care.
I created this yoga space so you will be encouraged to learn and reach new limits. I give individual corrections to push your limits and welcome you to go at your own pace, just as I do when I practice.
I have worked as a Wilderness Guide, a Hypnotist, a Counselor, and a personal Coach. This studio is my dream come true. So come on in and enjoy it with me!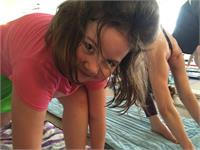 This Bikram Hot Yoga Class is open to all Ages of practitioners.
It is a regularly scheduled 90 minute Class.
Family members Ages 7yrs and older are welcome.
Children Ages 7-11 should bring an activity to keep busy with in the Lobby for the first half of Class. At Savasana, about half way through Class, younger practitioners will be invited into the Hot Room to participate in the 2nd half of Class. We want young participants to have a successful and enjoyable experience. 35 minutes in the Hot room is plenty as young children adjust to heat of the room.
Upcoming classes: